This is an archived article and the information in the article may be outdated. Please look at the time stamp on the story to see when it was last updated.
Firefighters battled a massive blaze at a recycling center in Ontario for more than three hours as it sent off toxic fumes before managing to contain it by Tuesday evening, authorities said.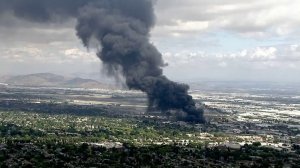 The fire,
located at 825 E. State St.,
was reported to fire officials at 1:14 p.m., according to Ontario Fire Department Chief Art Andres. About 110 firefighters worked against the flames for hours before it was fairly contained by 5 p.m., according to Andres. By that time, the fire was isolated to just one main hot spot, he said. The recycling facility bundles cardboard, plastics and other materials together so firefighters must break apart those bundles to make sure there aren't smaller fires still burning within them, according to Andres. The mixture of combustible materials being burned has resulted in the "deep dark black smoke" that could be seen floating from the scene of the blaze, Andres said. "Anytime you have combustible materials, it's going to put off toxic fumes, he said. But the direction of the wind has helped blow that smoke away from homes located north of the fire, Andres said, meaning no evacuations have been necessary. He said no homes were threatened by the smoke but advised people stay away from the surrounding area.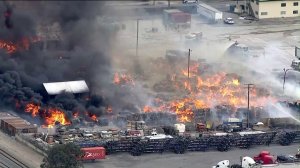 "The smoke is definitely a threat," Andres said. The fire was burning just west of Ontario International Airport but officials at the facility said none of its operations were expected to be affected. Andres said the wind has helped blow smoke away from the airport as well. Still, airport officials have advised passengers give extra time for their arrivals as streets in the area were
shut down
. Metrolink
officials announced
cancellations and line changes in the downtown Riverside area. Sky5 aerial footage showed thick black plumes of smoke rising from the flames and floating over several streets. As it continued burning, the fire could be seen spread across the recycling center, with flames roaring near bundles of rubbish as firefighters tried hosing them down.
🚒: There is a recycle yard fire west of Ontario International Airport (ONT), near State and Campus roads. The fire is not on airport grounds and currently is not affecting operations. @ontariofd is on scene. Please take caution and allow for extra time upon arrival at ONT. pic.twitter.com/L4rxctKrgR

— ONT Airport (@flyONT) April 30, 2019