This is an archived article and the information in the article may be outdated. Please look at the time stamp on the story to see when it was last updated.
Firefighters battled a blaze at a one-story commercial building on Ventura Boulevard in Sherman Oaks Tuesday afternoon.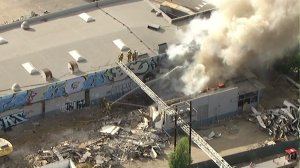 The building is under demolition, according to Margaret Stewart of the Los Angeles Fire Department, which was called to the fire at 4:07 p.m.
Thirty-four firefighters responded, knocking down the flames in 23 minutes.
The blaze burned in the 14300 block of Ventura Boulevard, apparently at a former auto-body business.
The fire was in a "large rubbish pile," and the building itself was protected from flames, according to LAFD.