This is an archived article and the information in the article may be outdated. Please look at the time stamp on the story to see when it was last updated.
Firefighters battled a blaze at a South Los Angeles building that was well involved with flames Tuesday morning, officials said.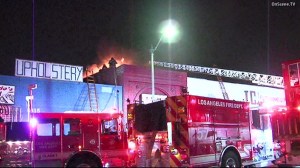 Flames broke out at a building at 6015 South Broadway Blvd. in South L.A.'s Florence neighborhood around 3:40 a.m., Los Angeles Fire Department spokesman Brian Humphrey tweeted.
The fire was confined to the 4,600-square-foot, one-story building, and 101 firefighters worked 46 minutes to extinguish it, according to another LAFD tweet.
No one was injured during the incident.
Multiple reports indicated the building was a marijuana dispensary, and WeedMaps.com - which lists the locations of pot dispensaries in the area - showed multiple can be found near the fire's location.
The cause of the blaze was under investigation.