This is an archived article and the information in the article may be outdated. Please look at the time stamp on the story to see when it was last updated.
A massive fire that ripped through a vacant commercial building near downtown L.A. on Friday morning has been knocked down, according to the Los Angeles Fire Department.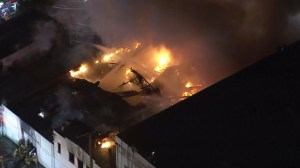 The flames erupted at the single-story structure just after 5:30 a.m. at 1824 E. Washington Blvd., an LAFD alert stated.
A nearby truck driver saw the fire break out and reported it.
"All of sudden, it just got brighter and brighter. You could see the flames going and the billowing of the smoke," truck driver Dennis Oltesvig said. "It just took off. You were hoping something doesn't explode and come flying through the windshield."
Fires in the middle of the night at abandoned buildings can take a couple hours to become detected by some observer in the area, fire Capt. Daniel Curry said.
"That's why you would see a large volume of fire at a time like this," Curry said.
The blaze burned near the border of downtown and the Central-Alameda neighborhood of South L.A. The location is near the 10 Freeway.
The commercial building was "heavily involved" in flames and smoke, and the roof was unstable, forcing firefighters to mount a defensive position, an LAFD alert stated.
Nearly a dozen fire trucks were at the scene, aerial video from Sky5 showed. Washington Boulevard appeared to be shut down in both directions as firefighters fought the flames.
Within an hour, the blaze was declared a knockdown, according to LAFD. A total of 119 firefighters had responded to the incident, officials said.
No injuries have been reported. The cause of the fire was under investigation.
KTLA's Melissa Pamer contributed to this article.