This is an archived article and the information in the article may be outdated. Please look at the time stamp on the story to see when it was last updated.
It took firefighters over an hour to get the upper hand on a structure fire burning on the top floor of a five-story commercial building in the Westlake District on Tuesday night.
The fire was reported around 7:45 p.m. in the 1500 block of  W. Olympic Boulevard and Union Avenue.
The building was initially described as both commercial and residential, but fire officials later confirmed that the structure housed only businesses and offices, according to the Los Angeles Fire Department.
The fire was confined to the south-west corner of the building, according to LAFD spokesman Daniel Curry.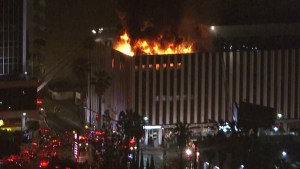 Firefighters went floor by floor throughout the 66,000 square foot building looking for anyone who may have been trapped by the flames.
Aerial video showed several people looking out the windows of the office building.
Ricardo Molina and his wife Vivian were among those trapped in the building. The couple, who operates a wholesale guitar business, were getting ready to leave when they smelled smoke.
With all the exits blocked by either smoke or flames, Ricardo Molina said he and his wife called 911.
"Oh God ... I hope I don't end up jumping," he said.
The couple also broke open a window and started throwing out packing material, hoping someone on the ground would see them.
Before long, firefighters sent an aerial ladder up to their fifth-floor office window and escorted the couple to the ground.
Vivian Molina described the experience as "scary."
Ricardo Molina was evaluated for an unspecified injury, but declined treatment.
One LAFD firefighter was taken to the hospital following exertion in extreme fire conditions, according to LAFD spokesman Brian Humphrey.
At the height of the blaze, about 177 firefighters were at the scene, according to Humphrey.
It was not known which businesses were affected by the fire, Curry said.
Investigators were looking into whether the smoke alarm system was working at the time.
The cause of the blaze was still under investigation.