This is an archived article and the information in the article may be outdated. Please look at the time stamp on the story to see when it was last updated.
An intersection in East Hollywood was closed Tuesday morning after firefighters extinguished a blaze at a strip mall there, officials said.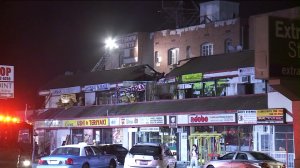 A fire broke out at the two-story mall at 4659 W. Fountain Ave., near the intersection with Vermont Avenue, before 4:30 a.m., according to the L.A. Fire Department. More than 100 firefighters worked to knock down the fire, which took about an hour to control.
The flames originated in a unit on the second floor of the complex before spreading across the structure's facade, threatening a neighboring four-story apartment building, LAFD said. Within 10 minutes the fire had spread to multiple units of the strip mall.
The flames were extinguished just before 5 a.m., and the apartment building was not affected, firefighters said.
No injuries were reported, and investigators were working to determine what led to the fire.
The intersection of Fountain and Vermont would be closed through the morning, officials said.