This is an archived article and the information in the article may be outdated. Please look at the time stamp on the story to see when it was last updated.
More than 100 firefighters battled a six-alarm blaze at an unoccupied senior-living apartment complex Sunday, officials said.
A fire at the nearly 400,000-square-foot building, located in the 2400 block of Market Street (map), was reported to the Riverside Fire Department around 4:30 p.m., Battalion Chief Tony Perna said.
"They noticed heavy smoke and fire coming from backside of the structure," he said of first responders. "They went to make an interior fire attack but it was too much fire, they had to pull back and we had to go defensive right away."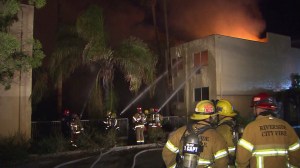 The fire broke out during a Red Flag Warning, and Perna said high winds were a factor and continued to cause flare ups.
The 113-room complex had been unoccupied for over 18 months, according to Perna. Homeless people had since resided there, local residents told KTLA.
Firefighters continued to fight the fire as of 10 p.m. and an investigation into the cause was underway.
An initial investigation showed the fire may have started in multiple locations.