This is an archived article and the information in the article may be outdated. Please look at the time stamp on the story to see when it was last updated.
Firefighters gained the upper hand in their battle against a slow-moving brush fire that was burning in a remote wilderness area of San Dimas Wednesday morning, authorities said.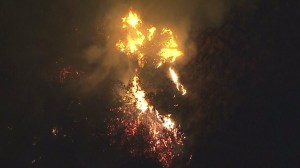 Crews responded around 4 a.m. after residents called 911 to report that they smelled smoke in the area, according to Lt. Andy Berg with the Los Angeles County Sheriff's Department.
The blaze was initially reported to be 2 to 3 acres, but it later grew to 5 acres, according to the Los Angeles County Fire Department.
By 10 a.m., it had spread to nearly 9 acres, but was 65 percent contained, according to the Fire Department.
No estimates were given as to when full containment was expected.
The fire was located in San Dimas Canyon, approximately a half-mile north of Golden Hills Road and a quarter-of-a-mile away from a residential area in La Verne, according to a news release from the Sheriff's Department.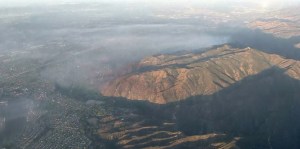 Flames were spreading in a northwest direction and away from homes in the area, according to Berg.
No structures were threatened, but Lt. Berg had said early in the fight that the department was "ready to pull the trigger" on evacuations.
The fire forced the closure of San Dimas Canyon Road near Golden Hills Road, according to Berg. No other street closures were reported to be in effect.
By 7 a.m., it appeared the fire was already mostly out, with plumes of white smoke visible over the area, according to aerial video.
The cause of the blaze was under investigation.
Check back for updates on this developing story.
KTLA's Justin Burton contributed to this report.