This is an archived article and the information in the article may be outdated. Please look at the time stamp on the story to see when it was last updated.
A 20-year-old Los Angeles man has been booked on suspicion of arson after a fire burned an under-construction East Hollywood apartment building, leaving 20 people displaced.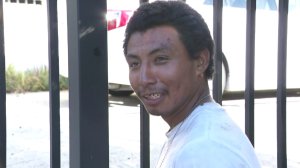 Benicio Garcia, who had been detained by fire investigators after the morning blaze, was arrested and is being held on $75,000 bail, the Los Angeles Fire Department announced.
The blaze was reported about 6:05 a.m. in the 400 block of North Heliotrope Drive, according to the Los Angeles Fire Department. Smoke from the blaze could be seen for miles, aerial video from Sky 5 showed.
"Fortunately no one was inside because it was under construction, but because there's no stucco, there's no drywall, there's no wind barrier, the flames were quickly fanned," LAFD Capt. Erik Scott said in a tweet.
One neighbor told KTLA the heat from the fire broke his kitchen apartment window.
More than 105 firefighters knocked down the blaze in about 45 minutes, according to LAFD. The fire charred the top two floors of the apartment complex.
An adjacent home had minor damages, while another apartment building had smoke exposure, officials said. One of the buildings was evacuated, and 10 adults and 10 children were displaced. The American Red Cross responded for residents who may need temporary housing.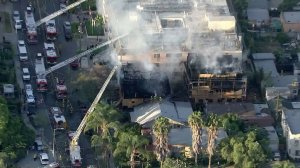 A woman whose house was damaged from the fire told KTLA she woke up to the smell and heat of the fire and noticed flames coming through her kitchen window.
"I saw through the window, I saw the fire," Idolina Ruiz said. "Fire! I told my husband because he was asleep."
No residents were injured during the incident, but a female firefighter was transported to a hospital with minor injuries after wooden debris fell on her head. She was in good condition after the incident, Scott said.
A Los Angeles city parking attendant, G. McCullough, was working in the area when he saw someone running from the building and called 911 and helped people get out of their homes nearby. He told KTLA that he was just doing his job.
Scott tweeted that the fire appeared to be "incendiary and suspicious" and that a man was detained at the scene for questioning.
The man detained told KTLA in Spanish that he did not intentionally set any fires Monday morning and ran out when flames suddenly erupted. Residents told KTLA the man detained by police is a 20-year-old transient.
Manuel Rivera, who lives nearby, told KTLA that homeless people used the construction site for shelter.
"Homeless people go inside, and we've always complained. Now this happened," Rivera said.
KTLA's Melissa Pamer contributed to this article.
HELIOTROPE DR. The fire appears to be incendiary & suspicious. @LAFD Investigators detained adult male, person of interest, for interview. pic.twitter.com/hTAQRKsF25

— 🅔🅡🅘🅚 🅢🅒🅞🅣🅣 (@PIOErikScott) June 12, 2017
#EastHollywood; #StructureFire; 421 N HELIOTROPE DR. Your @LAFD at work. pic.twitter.com/2iKm46YgkP

— 🅔🅡🅘🅚 🅢🅒🅞🅣🅣 (@PIOErikScott) June 12, 2017