This is an archived article and the information in the article may be outdated. Please look at the time stamp on the story to see when it was last updated.
Three structures were destroyed and others remained threatened as a growing 230-acre brush fire continued to burn along State Route 241 near Irvine Lake on Monday, officials said.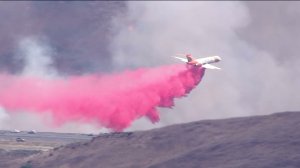 The blaze broke out near the 241 at Santiago Canyon Road at around 10:45 a.m., according to the California Highway Patrol's incident log.
By 11:20 a.m., it had scorched about 5 acres, according to Orange County Fire Authority Capt. Steve Concialdi.
The fire quickly grew in size, and less than two hour after the blaze began, it had increased to 125 acres, according to a tweet from the O.C. Emergency Operations Center.
But by 2:30 p.m., authorities said the fire had grown to 150 acres. It was last reported to be just 25 percent contained, but the Sheriff's Department tweeted that forward spread of the flames had been stopped.
As of 5:30 the blaze had scorched 230 acres, Concialdi tweeted.
The fire has destroyed 3 old abandoned structures that were formally old Irvine Ranch residences, according to the Orange County Sheriff's Department.
Several others structures were threatened in Irvine Lake and between 10 and 15 people have been evacuated from that area, a tweet from the Sheriff's Department stated.
The Irvine Lake campgrounds were also evacuated because of the fire, the O.C. Emergency Operations Center tweeted.
Meanwhile, Santiago Canyon Road was closed between the 241 and Modjeska Canyon while fire crews worked to extinguish the fire. About 200 firefighters were on-scene, Concialdi said.
Plumes of thick, dark-colored smoke, along with wisps of white smoke, towered over the hillside and were visible from miles away, Sky5 video showed.
Small patches of bright-orange flames were still showing on the mostly charred land, according to the aerial video.
An air tanker was seen making multiple drops in the smoke-filled area before the fire grew in size. The tankers were released from the area around 2 p.m., according to the Fire Authority.
The cause of the fire was under investigation.
Irvine Lake campgrounds under evacuation due to #241fire

— Orange County Emergency Operations Center (@OrangeCountyEOC) July 13, 2015
Santiago Canyon Rd closed between 241 and Modjeska Canyon. #241fire

— Orange County Emergency Operations Center (@OrangeCountyEOC) July 13, 2015
#OCSDPIO: Santiago Cyn Fire UPDATE – Irvine Lake structures threatened, deputies conducting evacuations (10-15 people) #241fire

— OC Sheriff, CA (@OCSheriff) July 13, 2015
Check back for updates on this developing story.
KTLA's Jennifer Thang contributed to this story.