This is an archived article and the information in the article may be outdated. Please look at the time stamp on the story to see when it was last updated.
A wind-driven brush fire burning in Simi Valley was fully contained as of 6 p.m. Thursday evening, according to a tweet from Ventura County Fire Capt. Mike Lindbery.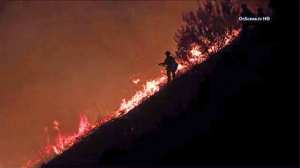 The so-called Lilac Fire broke out at approximately 10:24 p.m. Wednesday near Lilac Lane and Santa Susana Pass Road, according to the Ventura County Fire Department.
Wind was the primary issue as crews worked to put out the flames, authorities said. A red flag warning that was set to expire Thursday at 6 p.m. was extended and will be in effect for much of Los Angeles and Ventura counties through 10 a.m. on Friday, according to the National Weather Service.
The blaze burned about eight to 10 acres, fire officials said.
While not many flames were visible Thursday morning, fire officials said they were still concerned about the heat, possible hot spots, and embers that could get picked up and start another fire.
No evacuations were ordered; however, residents in the Lilac Lane area were told to shelter in place, according to the fire department.
Santa Susana Pass Road between Box Canyon Road and Rocky Peak Road, and the Rocky Peak Road exits from the 118 Freeway were back open by 9 a.m. after being shut down due to the fire, Ventura County sheriff's officials said.
Fire personnel from Ventura and Los Angeles counties were on scene. A total of 320 firefighters, four helicopters, one dozer and two water tenders responded, fire officials said.
The cause of the fire was under investigation.