This is an archived article and the information in the article may be outdated. Please look at the time stamp on the story to see when it was last updated.
Firefighters battled a greater-alarm structure fire at a commercial building in Boyle Heights on Thursday that sent huge flames and black smoke high into the air.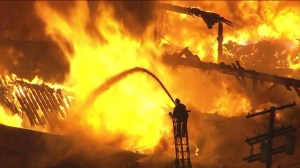 The fire was reported around 7:45 p.m. at 1566 S. Rio Vista Ave., according to Erik Scott with the Los Angeles County Fire Department. Fire officials had initially reported the address as 1604 S. Soto St.
Aerials from the scene showed enormous flames shooting up from the 70,000 square-foot single-story building.
While some firefighters were using large hose streams on the initial blaze, others could be seen providing structure protection to nearby buildings, the video showed.
Scott called the blaze a "defensive firefight," adding that the 150 firefighters at the scene were met by multiple challenges.
"A portion of an exterior wall on the front side of the structure collapsed, and ultimately, the roof caved in due to extensive fire damage throughout the structure," Scott stated in a news release.
There was also a potential threat of falling powerlines, he said.
The fire was officially called a knockdown around 10 p.m., but firefighters were expected to remain at the scene throughout the night.
No injuries had been reported. The cause of the fire was unknown.