This is an archived article and the information in the article may be outdated. Please look at the time stamp on the story to see when it was last updated.
A massive vegetation fire was 15 percent contained after burning about 300 acres Saturday night near the Prado Dam in the Chino Hills area, officials said.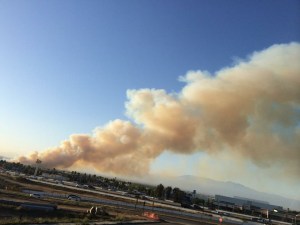 Mandatory evacuations remained in place due to the so-called Highway Fire, according to an incident report from the Riverside County Fire Department. The report had said the containment level was 30 percent before the figure was revised.
Some 200 homes in the area were threatened, the Fire Department said. Residents were ordered to evacuate houses on Bluff Street, Homestead Road and Stagecoach Drive (map) in nearby Corona.
The blaze was reported about 6:12 p.m. near the interchange of highways 71 and 91 (map), officials said. A rising plume of black smoke was visible for miles.
"This is an example of what the drought has done to these fuel conditions. Normally, this wouldn't burn in this type of area," said Capt. Mike Mohler of Cal Fire.
There were no immediate reports of injuries.
County firefighters were being assisted by fire crews from Cal Fire's San Bernardino and Riverside divisions, the Corona Fire Department and the Chino Valley Independent Fire District.
About 335 firefighters from 34 engine companies were at the scene, officials said.
Witnesses in the surrounding area took to social media, where they shared photos and videos of the dramatic flames and smoke.
The Red Cross opened an evacuation center for residents at Riley Gym, at 3900 Acacia Avenue in Norco (map). An evacuation center for horses was opened at Ingalls Park, at 100 6th Street in Norco (map).
The cause of the incident was unknown.
[tweet https://twitter.com/Andreais4real/status/589619521469566976 hide_thread='true']
An absolutely massive wildfire is burning in Riverside County. This will be tough to put out. @KTLA https://t.co/iOl0GmDRwO

— Steve Kuzj (@SteveKuzj) April 19, 2015
https://twitter.com/evanxnavarro/status/589628270867394560