This is an archived article and the information in the article may be outdated. Please look at the time stamp on the story to see when it was last updated.
Some 170 firefighters on Sunday afternoon extinguished a dramatic fire at an abandoned two-story motel in Van Nuys, according to officials.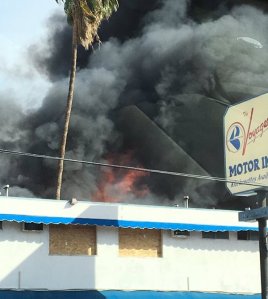 Firefighters responded shortly after 2 p.m. to the 6400 block of North Sepulveda Boulevard and initially engaged in "defensive operations" as the blaze raged at the structure, said Brian Humphrey, spokesman for the Los Angeles Fire Department.
Two hours and 53 minutes later, the active flames were knocked down and an investigation was underway, Humphrey said.
There were no immediate reports of injuries.
Periscope: Witness's Video Shows LAFD Response to Van Nuys Fire
A witness's video showed several LAFD ladder trucks and fire engines parked in front of the abandoned two-story Voyager Motor Inn as firefighters attacked the blaze.
Fire officials initially described the building as a three-story structure. Humphrey later confirmed the business was closed and vacant at the time of the fire.
News video from the scene depicted intense flames emerging from windows on the second level of the building. The fire sent a massive plume of black smoke into the air above the San Fernando Valley.
The cause of the incident was unknown.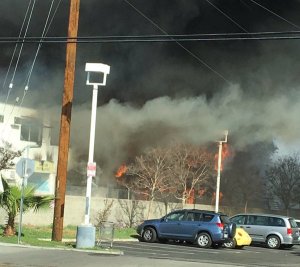 Sepulveda Boulevard was closed in both directions between Victory Boulveard and Kittridge Street as a mop-up operation continued. It was unclear when the stretch of road would be reopened.
A fire broke out at the Voyager Motor Inn in August 2013, when the business was still operational. In that blaze, four people suffered injuries that were not life-threatening.
Half of the motel's 120 rooms were occupied when the fire erupted.
"It took a lot of companies, a lot of water, a lot of personnel to finally get control of this fire," LAFD Battalion Chief Don Reyes said at the time. "It was a very tough fire to fight."
#LAFD Still battling the blaze pic.twitter.com/gOYJOxOpJH

— RMG News (@RMGNews) February 14, 2016
Your #LAFD battling a Major Emergency Fire in #Van Nuys, as seen from Fire Helicopter 1 pic.twitter.com/GuxlhUoSHR

— LAFDAirOps (@LAFDAirOps) February 14, 2016