This is an archived article and the information in the article may be outdated. Please look at the time stamp on the story to see when it was last updated.
Firefighters are working amid extreme heat conditions Tuesday to gain control over a raging fire that triggered new voluntary evacuations after scorching thousands of acres in the Cleveland National Forest.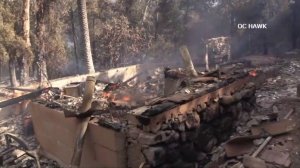 Fueled by brush, steep terrain and high temperatures, the fast-moving Holy Fire exploded in size after erupting about 1:20 p.m. Monday in the Trabuco Canyon area. It spread rapidly across the main divide separating Orange and Riverside counties, officials said.
Within nine hours, the blaze was reported to have grown to 4,000 acres, according to the Orange County Fire Authority, one of multiple agencies battling the flames. That estimated figure was also initially published on InciWeb, the federal wildfire information website.
However, due to more accurate mapping, the blaze's acreage was later downgraded to 3,399 acres, according to a tweet from the Cleveland National Forest and the InciWeb site.
Containment is estimated at 5 percent, a slight improvement from the previous night.
On Tuesday afternoon, a new voluntary evacuation warning was issued for the Highway 74 corridor and all connecting roads, affecting the communities of Rancho Capistrano, El Cariso Village and Blue Jay. The warning is for the highway west from Lookout Restaurant to the Nichols Institute.
By 5:35 p.m., the warning was expanded to include the Horsethief and Glen Eden communities.
Residents were told to exit west toward Orange County, avoiding incoming fire equipment coming from Lake Elsinore in Riverside County.
Two care and reception centers have been set up for residents who evacuate.
One is in Riverside County at Temescal Canyon High School, located at 18760 El Toro Road, in Lake Elsinore, according to Cal Fire Riverside. The O.C. shelter is at San Juan Hills High School at 29211 Stallion Ridge in San Juan Capistrano.
Mandatory evacuations were ordered Monday in the communities of Trabuco and Holy Jim canyons. The Blue Jay, Falcon and El Cariso campgrounds in the Cleveland National Forest, as well as all campgrounds in the Trabuco Ranger District, have also been evacuated.
National Forest officials said residents with landlines would receive a reverse 911 call, but those using a cellphone or internet-based phone service would need to register the number with their county's alert system. Orange County residents can register here, and Riverside County residents can register here.
Impacted residents can also call the public information hotline at 714-573-6200 or 714-573-6202 for more information.
The fire was inching closer to Lake Elsinore Tuesday night, but officials said the town was not under an evacuation warning.
Still, the large plume of smoke looming above the city was creating anxiety for residents.
"You're just constantly on guard, thinking that everything you worked for is going to be gone," resident Kim Tedder told KTLA. She said she's already packed the things she can't replace.
One structure has been destroyed thus far, but there was no other imminent to threat to other buildings, Lyn Sieliet of the U.S. Forest Service told KTLA Tuesday morning.
In addition to evacuation orders, the following forest-area roads were also closed: Trabuco Creek, Maple Springs, North Main Divide, Bedford and Indian Truck Trail.
OCFA emphasized there was no threat to other nearby areas, including  Robinson Ranch or Rancho Santa Margarita.
About 600 fire personnel were working via ground and air to combat the flames. Two OCFA hand crew members were transported to a hospital where they were treated for heat exhaustion, the agency said.
Added to the firefighting arsenal is the impressive Global SuperTanker, which was deployed in the state for the first time about a month ago after being activated for use by Cal Fire.
The aircraft is billed as the "world's largest aerial firefighting tanker."
Curious about what our team sees while in the air? Check out a few pictures from yesterday as the #SuperTanker approached the #HolyFire. 📷: GST's own Hiroshi Ando. pic.twitter.com/t9wMP9nu07

— Global SuperTanker (@GlobalSuperTank) August 7, 2018
Aided by weather conditions and topography, the fire spread swiftly on Monday, engulfing 700 acres of forest in about 90 minutes.
"It doesn't surprise me that it is burning this fast in chaparral," said Jeanna Smith of the U.S. Forest Service. "And that area hasn't burned for quite a while, so we're looking from 6 to 10 feet in some areas."
Sieliet noted that a fire hadn't burned in that particular area in about 40 years.
Crews faced another challenging day Tuesday, with temperatures expected to peak as Southern California is gripped by another heat wave. Officials said they anticipate an increase in fire activity as temperatures rise during the day.
An excessive heat warning is in effect in the area, with temperatures forecast to hit the upper-90s in the afternoon hours, the National Weather Service said.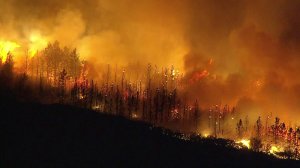 Winds were expected to reach around 5 mph, calming in the evening, forecasters said. Humidity was around 41 percent as of Tuesday morning.
On Monday, the flames produced a thick plume of dark smoke over the area that was visible throughout Southern California and prompted a smoke advisory to be issued in Orange, Riverside and San Bernardino counties.
With the anticipating of similar plumes Tuesday, air quality could be unhealthy in the following areas: northern, central and coastal Orange County, the Saddleback and Capistrano valleys; Corona, Norco, Riverside, Lake Elsinore, Banning Pass, Hemet and the Perris, Temecula and San Jacinto valleys in Riverside County; and the northwest, southwest, central and east San Bernardino Valley and east, west and central San Bernardino Mountains.
The advisory is expected to last through Wednesday, according to the South Coast Air Quality Management District.
The Holy Fire is one of more than a dozen wildfires burning throughout California.
It broke out on the same day that the 442-square-mile Mendocino Complex Fire — burning northwest of Sacramento, in Lake and Mendocino counties — became the largest wildfire in California history, surpassing the Thomas Fire which scorched about 439 square miles in Ventura and Santa Barbara counties last winter.
KTLA's Jennifer Thang contributed to this story.