This is an archived article and the information in the article may be outdated. Please look at the time stamp on the story to see when it was last updated.
After three days of continuous firefighting, crews had the Saddleridge Fire 41% contained Sunday morning as winds slowed down in the San Fernando Valley, according to the Los Angeles County Fire Department. The blaze scorched 7,965 acres, or 12.4 square miles of land, damaged or destroyed 32 structures, blanketed neighborhoods with thick smoke and forced the evacuation of tens of thousands of people. One Porter Ranch man who tried to douse the flames with a garden hose died of a heart attack Friday. Two firefighters were injured, one of them reporting a minor eye injury, according to an LAFD
report
.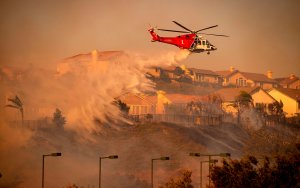 Authorities said firefighters on Sunday will take advantage of the fading onshore winds and attack the remaining hot spots. The goal was to improve containment around the perimeter of the wind-driven wildfire and drop retardant from an aircraft in the areas too difficult to get to because of the steep terrain, fire officials said. The blaze that broke out Thursday left many residents crowding shelters while 1,000 firefighters worked to contain the blaze. Authorities lifted all evacuation orders by Saturday evening and residents were allowed back into their homes. All evacuation shelters were closed by Sunday afternoon. "We thank members of the community for promptly heeding the evacuation orders and their patience as we worked to contain the fire," the Los Angeles Fire Department said. Authorities told residents to be cautious returning home to neighborhoods were crews may still be working. "As you repopulate the previously evacuated areas, we ask you to remain vigilant, and drive cautiously, as there are still public safety personnel working in the area," the Los Angeles Fire Department
said
. The department reminded residents to protect themselves from potential hazards by wearing gloves, dust masks, eye protection, jeans and long-sleeved shirts, and refraining from wearing open-toed shoes or flip flops. Since ash and burned materials can contain hazardous chemicals, fire officials said homeowners should avoid washing the area around a damaged house with a garden hose, since it may send the dangerous waste into sewers and drains. LAFD spokesman Brian Humphrey said the bulk of the fire at the city's edge had moved away from homes and into rugged hillsides and canyons where firefighters were making steady progress slowing its advance. Aerial video from Sky 5 showed plumes of smoke rising from the area but no walls of towering flame, as a water-dropping helicopter moved in to dump another cascade on the blaze. "You mentally prepare before you come in that anything can happen at any time," LAFD Capt. Darien Laier told KTLA, standing in the middle of a Porter Ranch cul-de-sac where at least two homes were badly burned. Some residents in the area described a delayed response, and the captain said firefighters did their best to stop the flames from spreading to more homes. "I can promise the citizens, they got the best of what we could do with the situation that we had," Laier said. "There is no doubt in my mind that, with the firefighters that I saw out there and what we did laying it on the line, that this could have been ten times worse." Another firefighter, David Ortiz, described initially responding to a 60-acre blaze in Sylmar that quickly spread, directing the firefighting response towards homes that caught fire. "It spotted across a freeway and it took off like a freight train," Ortiz told KTLA. "A lot of neighbors are upset that we didn't have a fire engine in front of their home. We just didn't have enough staffing. We ordered, immediately, additional resources and they were on their way as soon as we saw we needed more help." A couple that lives in the area said they felt fortunate to survive the flames. "The fire was so rapid but I thought this time it wasn't going to make it," Marc Flashberg said, before commending firefighters on their response. "They said, 'look your house is not on fire and if it is, we will be there in seconds, we are taking care of the houses that are burning,' and they were just wonderful." Firefighters worked under sunny skies, but air quality was poor as smoke dispersed over much of greater Los Angeles. Officials urged people to limit unnecessary outdoor activities. A smoke advisory was issued and was expected to remain in effect through Monday for for the San Fernando and Santa Clarita valleys, as well as the San Gabriel Mountains, according to the
L.A. County Department of Public Health
. The county school district said all schools in the area will open and resume regular schedules Monday after crews worked to replace air filters and cleaned the campuses affected by the fires, officials
said
. Outdoor activities will be limited throughout the week as needed. Onshore winds gusting at about 15-25 mph were expected Sunday, combined with low humidity in the 8-20% range, according to the
National Weather Service
. The combination will continue to create elevated fire weather conditions in the area. The 5 Freeway was closed down for much of the day Friday, backing up traffic until finally reopening. The region has been on high alert as notoriously powerful Santa Ana winds brought dry desert air to a desiccated landscape that only needed a spark to erupt. Fire officials have warned that they expect more intense and devastating California wildfires due, in part, to climate change. The fire's cause is under investigation, and authorities warned that the threat of flare-ups remained. The cause of the blaze wasn't immediately known, though arson investigators said a witness reported seeing sparks or flames coming from a power line near where the fire is believed to have started, said Peter Sanders, a spokesman for the Los Angeles Fire Department. Southern California Edison
told
the Los Angeles Times it did not de-energize any power lines in the fire area and cautioned it was too early to say what caused the blaze. All freeways, connectors and truck routes that were closed due to the fire are open Sunday, according to Caltrans.