This is an archived article and the information in the article may be outdated. Please look at the time stamp on the story to see when it was last updated.
Los Angeles County firefighters and deputies were responding Tuesday afternoon to a report of a shooting victim in a remote, residential area of Malibu.
Firefighters were called to Piuma and West Saddle Peak roads at 2:30 p.m., according to Los Angles County Fire Department.
Aerial video from Sky5 showed a silver Mercedes-Benz station wagon or SUV parked at a dirt overlook off winding Piuma Road, which was blocked off. Several deputies were responding.
The Sheriff's Department Lost Hills Station could not be reached for information, but Deputy Juanita Navarro with sheriff's headquarters said deputies were investigating a report of a gunshot victim under unknown circumstances.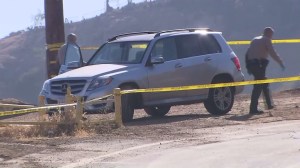 The plates on the vehicle showed it was a Hertz rental car.
During the investigation, a sheriff's helicopter spotted an old stolen vehicle that had gone over the side of the road, about 300 feet down. No one was in the vehicle and it was an unrelated case, sheriff's Sgt. Tui Wright said.
KTLA's Scott Williams contributed to this article.