This is an archived article and the information in the article may be outdated. Please look at the time stamp on the story to see when it was last updated.
Arson investigators on Sunday were investigating eight early morning fires that broke out in the San Fernando Valley, officials said.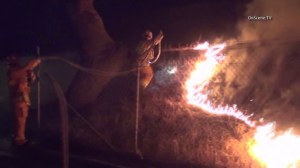 The separate incidents, the first of which began about 3 a.m., occurred in North Hollywood and Sun Valley, according to a news release from Erik Scott, spokesman for the Los Angeles Fire Department.
One of the fires erupted at 7215 Camellia Ave., the statement said. Camonics Camshaft Co. is located at the address.
The blazes included dumpster fires, a burning mattress laid against an auto, and outdoor structures burning near a commercial building, according to the LAFD.
"Due to firefighters' quick efforts, all fires were swiftly extinguished, minimizing damage, and no one was injured," Scott said.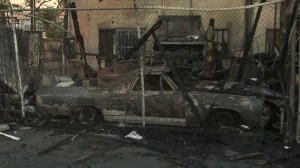 The investigation was being conducted by the LAFD's Arson Section, whose entire on-call staff worked on the case "through the night — investigating, canvassing and questioning," the spokesman said.
One person of interest was detained and questioned, but later released, Scott stated. The cause of the fires remained under investigation.
Anyone with information about the incidents was asked to call the Fire Department at 213-893-9850.
KTLA's Ashley Soley-Cerro contributed to this report.