This is an archived article and the information in the article may be outdated. Please look at the time stamp on the story to see when it was last updated.
An arson investigation was underway Wednesday morning after firefighters extinguished several burning semitrailers at an industrial facility in South Gate.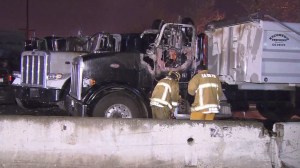 The incident was reported about 1:23 a.m. in the 5600 block of Southern Avenue, said Supervisor Michael Pittman of the of the Los Angeles County Fire Department.
Firefighters responded to the Blue Diamond Materials cement factory, where they arrived to find four big rigs on fire.
The engine was running on at least one of the trucks, and fumes were seen emanating from its exhaust pipe, while the flames were still active.
The fires were knocked down by 1:37 a.m., Pittman said. No injuries were reported.
Arson investigators responded to the scene but declined to immediately comment on the investigation.