This is an archived article and the information in the article may be outdated. Please look at the time stamp on the story to see when it was last updated.
Firefighters on Saturday night extinguished a fire that engulfed a tree near the iconic It's a Small World attraction at Disneyland, officials said.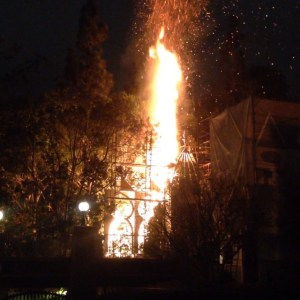 No injuries were reported.
The small blaze broke out about 9:19 p.m. in a backstage area at the Orange County theme park, said Disneyland spokeswoman Suzi Brown.
Firefighters responded to the scene and knocked down the flames by 9:48 p.m., according to a spokesperson for the Anaheim Fire Department.
It's a Small World was not damaged in the blaze, which may have been sparked by fireworks, Brown said.
Fire Department investigators were working to determine the official cause of the incident.
The ride was closed as a result of the fire but was expected to reopen later Saturday night, according to Brown.
https://instagram.com/p/zrG4t6R0G9/?modal=true​