This is an archived article and the information in the article may be outdated. Please look at the time stamp on the story to see when it was last updated.
Firefighters extinguished an electrical fire in a housing unit at Loyola Marymount University on Saturday evening, authorities said.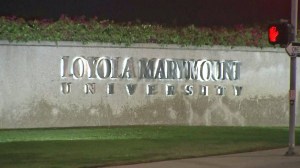 Los Angeles Fire Department personnel responded about 8:41 p.m. to 1 Loyola Marymount University Drive (map), where the blaze broke out on the second floor of the three-story Eugenia B. Hannon Apartments, officials said.
The building was evacuated as firefighters worked to knock down the fire, which caused $14,000 in damage, according to authorities.
Two LMU security officers were examined for smoke exposure at the scene, the Fire Department said.
"Less than a dozen" occupants of the building, located in the southern section of the campus, were displaced by the fire but will remain in other on-campus accommodations, the LAFD said.