This is an archived article and the information in the article may be outdated. Please look at the time stamp on the story to see when it was last updated.
Arson and explosives detectives were working to determine the cause of a raging blaze that burned through a two-story office building in West Hollywood early Tuesday, according to the Los Angeles County Sheriff's Department.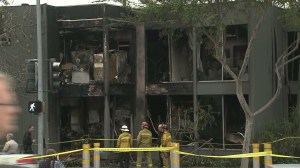 The fire was reported just before 2:30 a.m. in the 8400 block of Santa Monica Boulevard (map), authorities said. It was knocked down around 3:45 a.m.
One witness told KTLA that he saw someone throw something into the building just before the flames broke out, and that it appeared the building had been firebombed.
"As I got to this corner, I heard glass breaking. I looked over and a guy was throwing something through the windows, and then the place just went up in flames," Mitch Jackson said. "It just went up so fast. Whatever they were throwing must have been an accelerant because they broke the windows out and it just went up to the second floor immediately."
Jackson said he saw another person at the scene. He said both were wearing dark caps and were dressed in dark outfits.
A man, who was inside the building when the fire broke out, said it happened in an instant. He did not want to be identified.
"I saw the smoke coming up under the door," he said. "I knew I was in trouble."
The man said he was trapped in his office by the flames. Fortunately, his second story office had a balcony.
"I just climbed down the pole," he said.
Two firefighters suffered minor injuries battling the flames, according to officials.
The fire caused an estimated $2.5 million worth of damage to the building.
Santa Monica Boulevard was shut down for several hours Tuesday morning between La Cienega Boulevard and Kings Road following the fire.
Anyone with information was asked to call the Sheriff's Department's Arson Explosives Detail at 323-881-7500.
Those who would like to remain anonymous were asked to phone in tips to Crime Stoppers by calling 800-222-8477, texting the letters TIPLA plus a tip to 274637, or going to the website http://lacrimestoppers.org.
KTLA's Kacey Montoya contributed to this report.