This is an archived article and the information in the article may be outdated. Please look at the time stamp on the story to see when it was last updated.
At least six cats were rescued after a fire ripped through a home in Lancaster late Tuesday.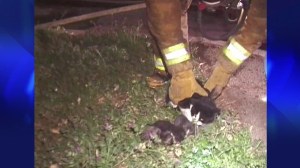 The fire broke out at a residence in the 300 block of Lingard Street (map) around 11:30 p.m.
More than two dozen Los Angeles County firefighters were able to knock down the flames in about 30 minutes, but video showed there was extensive damage to the home.
"The house is not livable," L.A County Fire Department Capt. Scott Polgar said.
About 15 to 20 cats and kittens lived at the home, firefighters said. They estimated that eight to 10 cats died in the fire. It was unclear how many survived, but video showed that at least six — including the 8-week-old kittens — had been rescued.
"The firefighters did a heroic effort in saving those cats," Polgar said.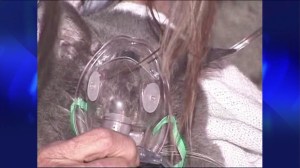 Video from the scene showed a woman giving oxygen to one of the rescued cats.
"We had given her oxygen, and we were applying oxygen to several of the cats," said Polgar. "She was actually giving one of the cats mouth-to-mouth, from what I remember at the scene. I'm not sure if that cat has survived or not, but she was trying to do her best to save the cat."
No injuries were reported. The cause of the blaze was under investigation.
KTLA's Liberte Chan and Soumada Smith contributed this article.