This is an archived article and the information in the article may be outdated. Please look at the time stamp on the story to see when it was last updated.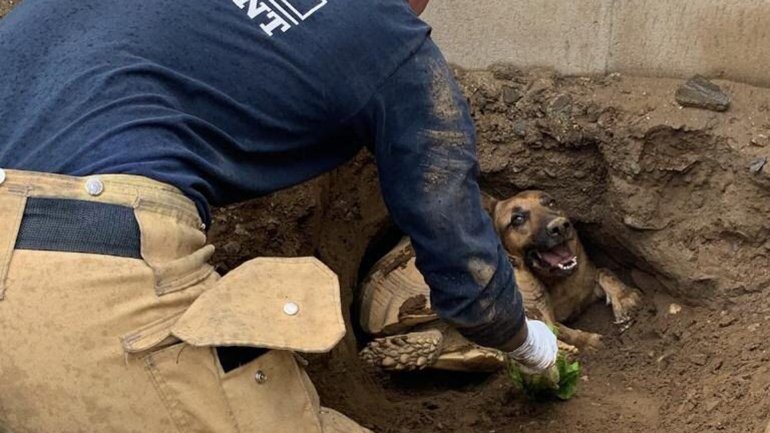 Firefighters had an unusual rescue on their hands this week when a 70-pound tortoise and a German shepherd dog got themselves wedged in a tunnel the tortoise had dug under a backyard wall.
The incident unfolded about noon Wednesday in the 8000 block of Regal Court, Capt. Jeremy Kern of the San Bernardino County Fire Department said in a written statement.
The tortoise, named Godzilla, had dug a 6-foot tunnel beneath a cinderblock wall in its backyard, he said. The tortoise's yard mate, a German shepherd named Taylor, decided to join his reptilian pal in the burrow.
"It appears that the dog had brought a blanket into the tunnel, resulting in the dog, blanket and tortoise becoming wedged and entangled," Kern said.
The animals' owner was initially trapped in the hole as well, but managed to get himself out before firefighters arrived.
"Firefighters used tools in order to remove dirt from around the animals, along with coaxing the tortoise with lettuce in order to encourage the animal to move," Kern said.
"In about 10 minutes, firefighters were able to un-wedge the animals and extract them out of the tunnel," he said.
The dog and tortoise both appeared unharmed and were returned to their yard at the base of the tunnel, officials said.
#SBCoFD #Firefighters Rescue Dog and Tortoise from Tunnel in @CityofFontanaCA Press Release: https://t.co/s5rhTfkmLE pic.twitter.com/5eNFCa2qQZ

— SB County Fire (@SBCOUNTYFIRE) February 22, 2019