This is an archived article and the information in the article may be outdated. Please look at the time stamp on the story to see when it was last updated.
As stormy weather crossed through Southern California early Friday afternoon, fire crews rescued a man from the Los Angeles River near the Boyle Heights, aerial video showed.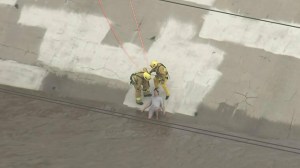 The rescue occurred shortly after 1 p.m. near the Olympic Bridge, according to a tweet from the Los Angeles Fire Department.
The man appeared to be mostly out of the water when two firefighters came to his aid and pulled him to safety, the video showed.
He was taken away in an ambulance, according to the video.
His condition was not known.
This was at least the second rescue of the day from the L.A. River. Hours earlier, crews came to the aid of two men and two dogs in the Cypress Park area after they became stuck in a tree in the wash.