This is an archived article and the information in the article may be outdated. Please look at the time stamp on the story to see when it was last updated.
Firefighters rescued a man who was trapped inside a burning Mexican restaurant in East Los Angeles early Christmas morning.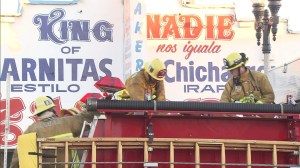 The Los Angeles County Fire Department responded to the blaze at Cesar Chavez and Kern avenues (map) at about 6:15 a.m. to find sheriff's deputies trying to get the man out of the building, according to Battalion Chief Mark Tolbert.
Firefighters entered the eatery — a popular spot called Zamora Carnitas — and were able to rescue the man, who suffered smoke inhalation and was taken to a local hospital, Tolbert said.
The fire was soon put down, he said.
The blaze at Cesar Chavez and Kern avenues sent smoke towering into the air at dawn, cellphone video taken by a bystander showed.
The inside of the restaurant appeared blackened and charred.
The cause of the fire was under investigation.