This is an archived article and the information in the article may be outdated. Please look at the time stamp on the story to see when it was last updated.
A woman became stuck in a chimney for five hours at her home in Pomona on Friday morning after purportedly losing her keys, a police lieutenant said. She was subsequently rescued by firefighters.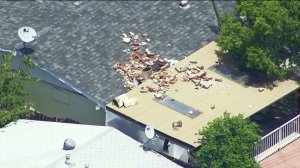 The incident was reported about 12:15 p.m. in the 2200 block of Carlton Avenue, according to a spokeswoman for the Los County Fire Department.
After emergency responders dismantled the chimney and extricated the woman, she was transported to a hospital in unknown condition, the Fire Department said.
News video from Sky5 showed dozens of bricks scattered on the roof of the single-story house after the rescue operation was complete.
The woman told authorities she decided to try to enter the residence through the chimney after misplacing her keys, said Lt. Steve Congalton of the Pomona Police Department. Officials confirmed she was a resident of the home.
The victim, Ana Moreno, returned home Friday night but did not want to speak to reporters.
Moreno suffered only minor bumps and scratches, but was also nursing a "bruised" ego after ending up on the news, her sister said.
"We're just happy she's fine. That's all that matters," Ivanna Moreno said.