This is an archived article and the information in the article may be outdated. Please look at the time stamp on the story to see when it was last updated.
Firefighters have stopped forward progress after a small brush fire spread to cover 25 acres in the Hollywood Hills area near the Griffith Observatory on Tuesday afternoon.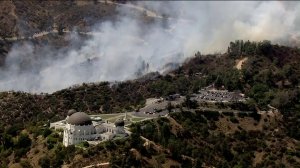 The Griffith Park Fire broke out northwest of the observatory just before 2:10 p.m., burning within a quarter-mile of the iconic structure, according to the Los Angeles Fire Department.
Within 20 minutes, the flames had charred about two acres as the blaze burned through grass and light vegetation, an LAFD alert stated.
But crews were able to make fairly quick work of the flames, with fire officials declaring forward progress stopped as of 3:30 p.m. At that point, authorities had been able to get hose lines completely around the blaze, said Erik Scott, an LAFD public information officer.
The fire was 90 percent contained late Tuesday night, authorities said.
But it was apparent that firefighters had gained the upper hand on the blaze by mid-afternoon, when Sky5 aerial video showed wisps of white smoke rising up from the blackened hillside, as small spot fires slowly burned in areas of previously untouched brush.
That was in stark contrast to the scene an hour earlier, when the fire sent thick plumes of smoke billowing high up into the air behind a number of residences. The flames broke out in predominantly "light, flashy fuels" that were susceptible to being sparked, Scott said.
By 5 p.m., some firefighters were being sent home, and drones were being brought in to monitor hotspots and remote terrain.
Despite what at first appeared to be pretty precarious situation, fire officials said no structures were threatened. A short time later, the aerial footage confirmed the flames were burning away from the multimillion-dollar homes that dotted the hillside.
However, about four to six vehicles parked along Observatory Road were charred, and some were destroyed, Scott said.
#GriffithParkFire; 10 acres. @LAFD stopped forward progress at 3:30pm. Hose lines are around the fire. No structures threatened. No injury. A few vehicles burned. 2000+ evacuated from #GriffithObservatory to #GreekTheatre and will be bussed back to their vehicles to exit area. pic.twitter.com/rZNCrmfexe

— 🅔🅡🅘🅚 🅢🅒🅞🅣🅣 (@PIOErikScott) July 10, 2018
More than 2,000 visitors were safely evacuated from the observatory and park as a precautionary measure, though authorities indicated there was no threat to the landmark structure, according to Los Angeles Police Department Officer Tony Im. The tourist hotspot was shuttered the remainder of Tuesday, and fire officials said it would likely be closed for at least part of Wednesday as well.
In addition, hikers, bicyclists, motorists and others are urged to stay away from the areas of Griffith Park impacted by the fire. To that end, access to the park has been shut down along Los Feliz Boulevard at Vermont Avenue and Fern Dell Drive, Scott told reporters during a news conference.
Those in Griffith Park were urged to exit out west of the fire, at Western Canyon Road, Scott said. He added that anyone separated from family members, loved ones or other individuals should head to the reunification point set up at the Greek Theatre.
Two firefighters suffered heat-related injuries. One was taken to a local hospital, while the other declined to be transported for treatment, officials said.
About 120 firefighters were initially dispatched on the ground to battle the flames, while three helicopters were assisting by air, according to LAFD spokesman Brian Humphrey. More than 200 firefighters in total from various agencies responded amid the aggressive firefight.
"We have hit this hard and fast with resources in the air and resources on the ground," Scott said prior to the announcement that forward progress had been stopped.  "We're surrounding the fire, we've made a strong anchor point, and we're flanking both sides of the fire, and we're using our air resources to make strategic water drops at the head of the fire."
He noted that spots fires presented some additional challenges, including a couple of different ones that joined together.
Light winds of about 6 mph were blowing in the area, but the fire was primarily being fueled by the topography, according to LAFD. By mid-afternoon, temperatures reached into the mid-80s, which while hot were significantly lower than the triple-digit heat that inundated the region last Friday.
Humidity was about 51 percent, according to the National Weather Service.
Though the observatory was closed, a performance by Sylvan Esso at the Greek Theater went on as scheduled Tuesday night. About 4,200 were expected to attend, LAFD said.
All @SylvanEsso fans – The show will go on as scheduled this evening. Please be patient as you enter the park as traffic may be a little slower than usual. Gates are still scheduled to open at 6:30pm.
If you get a minute, thank a first responder if you can! pic.twitter.com/haY5XZnmpS

— The Greek Theatre (@Greek_Theatre) July 10, 2018
LA! The show tonight IS ON!!!😎💚🍨

The folks at The Greek are working hard to get everything started and open on time. Traffic may be a little slower than usual so please be patient.

Thanks so much to LAFD and the first responders for keeping everyone safe! 👨‍🚒

— Sylvan Esso (@SylvanEsso) July 10, 2018
Firefighters would be out in Griffith Park throughout the night performing mop up operations, according to LAFD Deputy Chief Armando Hogan.
"The efforts that you saw here today, this … potentially could have been a lot worse," he said. "But the quick action of all the agencies here in the city — that's why we're standing here with me with somewhat of a smile on my face, because of the fact that we are two seconds from calling a knockdown on this incident."
The cause of the blaze is unknown and is being investigated.
It's not the first fire to break out at the famous landmark this summer, though it was bigger than the brush fire that burned a few acres northwest of the observatory on June 19.
KTLA's Jennifer Thang and Erika Martin contributed to this story.