This is an archived article and the information in the article may be outdated. Please look at the time stamp on the story to see when it was last updated.
Eighty-four firefighters Wednesday morning extinguished a strip-mall fire in East Hollywood that left a woman in "extremely grave" condition, officials said.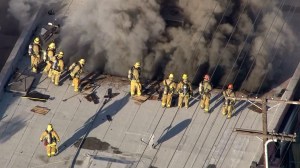 The blaze broke out about 7:11 a.m. and burned in the attic of a single-story structure in the 4800 block of Santa Monica Boulevard (map), said Brian Humphrey, spokesman for the Los Angeles Fire Department.
Firefighters at the scene assisted one female patient, Humphrey said. Aerial video showed the victim, lying on a stretcher, being wheeled away from the building by the emergency responders.
LAFD Deputy Chief Joe Castro said the woman, approximately 40 years old, had no pulse and was not breathing when she was found. She was transported to a hospital in "extremely grave" condition, according to Castro.
The woman was apparently living in a unit inside the building, which is not approved for residential use, the deputy chief said. "Our investigation will probably take most of the day to definitively decide what actually happened," he added.
Before the blaze was knocked down, at least 15 firefighters were seen on the roof of the structure, ventilating it as heavy black smoke emanated from the attic shared by the six businesses at the location.
Asked if a rooftop firefight is comparatively dangerous, Castro said: "Statistically it is, in terms of injuries, but it is truly vital in our strategy to release the heat and gases, which makes the fireground area more survivable for trapped victims. And it also stops the extension and precludes the fire from getting larger."
Two of those businesses were "profoundly damaged," he said.
A pet dog was found in the aftermath of the fire.
The cause of the incident was not immediately known.
More video: