This is an archived article and the information in the article may be outdated. Please look at the time stamp on the story to see when it was last updated.
A fire that broke out in a pallet yard in San Bernardino prompted a large response from firefighters Friday morning.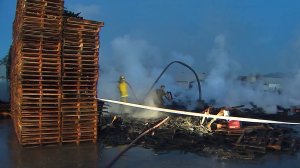 The fire was reported about 3:58 a.m. at a pallet yard in the 1900 block of East Riverview Drive, according to a spokesperson for the San Bernardino County Fire Department.
A tweet by the Fire Department identified the business as Inland Pallets and stated that a nearby strip mall was also impacted by the blaze.
At one point during the firefight, ammunition from a nearby building got so hot it began to go off, Fire Department Capt. Marc Peebles said.
"It essentially implodes and blows out through the casings," said Peebles.
The Fire Department responded to the blaze with 20 engines, five ladder trucks, two dozers and two hand crews, Peebles said.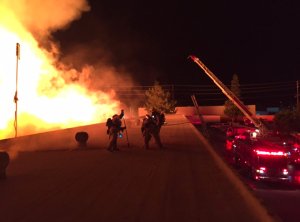 About 80 firefighters were were on hand to fight the fire, the department tweeted.
One image posted by the fire department appeared to show crews on a rooftop battling a portion of the blaze.
The fire was contained just before 7 a.m., the Fire Department tweeted.
No injuries were reported in the incident.
The cause of the fire was under investigation.
The Fire Department posted video of the firefight on Periscope: https://www.periscope.tv/EPN564/1eaJblRpjOeKX?t=29