This is an archived article and the information in the article may be outdated. Please look at the time stamp on the story to see when it was last updated.
Firefighters responded to a blaze that damaged the iconic Colossus roller coaster at Six Flags Magic Mountain Monday afternoon, a little over three weeks after the ride closed for renovation.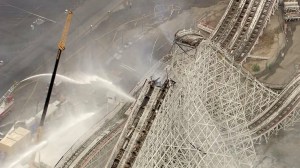 The Los Angeles County Fire Department was called to the scene at the amusement park in Santa Clarita just after 1:30 p.m., fire Inspector Scott Miller said.
Photos posted to Twitter showed a column of smoke appearing to rise from a high point on the ride.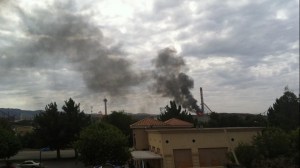 When Sky5 arrived, an elevated portion of the roller coaster's wooden track was charred black. As planks began to fall to the ground below, part of the track completely collapsed.
Several fire engines were on scene and firefighters were dousing the flames.
The park was closed Monday.
The wooden coaster ceased operating in mid-August after 36 years. It was set to be replaced by a hybrid ride called "Twisted Colossus."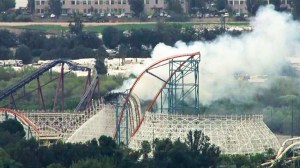 The popular ride dropped 100 feet and reached speeds of up to 60 mph.
Contractors had been working on disassembly of the ride when the "top of the lift hill" caught fire, the amusement park stated on Twitter.
Heat equipment was being used, an official later stated.
The blaze was put out, the park stated at 2:12 p.m.
"There are no injuries and the fire is contained," Six Flags stated. "Colossus is currently undergoing a transformation and has been closed since August 17."
Firefighters were working to "shore up" the ride, which caught fire while work was being done on the ride, the Fire Department's Division 3 stated in tweet.
It was not clear where the crews had been working or what kind of tools they were using when the fire erupted, Fire Department Inspector Rick Flores said on scene.
The cause of the fire was under investigation.
The opening of the "Twisted Colossus" coaster was not expected to be delayed, officials said.
KTLA's Jennifer Thang contributed to this article.
More videos: