This is an archived article and the information in the article may be outdated. Please look at the time stamp on the story to see when it was last updated.
The body of a man in his 40's was found inside a vehicle that was discovered Tuesday buried in several feet of mud in Palmdale, in the same spot a local resident said she saw a vehicle drop into a culvert and get covered in water during last week's severe storm.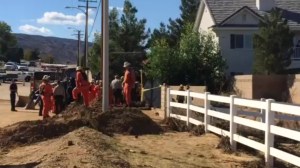 Firefighters were called to buried vehicle in the 41600 block of Karen Drive (map) at 12:50 p.m., according to Los Angeles County Fire Department Inspector Randall Wright.
The vehicle was believed to have been buried in the Oct. 15 storm that wreaked havoc in many parts of the Antelope Valley, said Deputy Jodi Wolfe of the Los Angeles County Sheriff's Department's Palmdale Station.
Video from the scene showed a backhoe and inmate firefighters digging around the vehicle.
"As they began to dig further down they discovered what appeared to be a human hand protruding from the vehicle," LASD Lt. Victor Lewandowski said.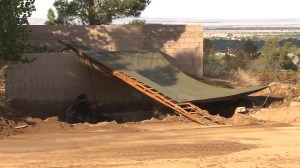 At least one body was inside the vehicle, and it was not known if there were more, Nicole Nishida with the Sheriff's Department said earlier in the day.
Lewandowski later described the sole victim as a white man in his late 40's.
Sheriff's homicide detectives were called to the scene as a matter of standard procedure in what was considered a "death investigation."
There were no signs of foul play, according to authorities at the scene, who said all signs pointed to a tragic accident during the recent flash floods.
After nearly 10 hours, the vehicle was finally pulled from what was described as a 12 foot deep concrete drainage ditch.
A neighbor who lives near the scene said she saw a black minivan or SUV drive through several feet of water and then go into a deep ditch during the storm.
"It went nose first, and then you saw the back axle just continue to sink down, and that was it," local resident Stacey Horwood said. "The water just kept going and going and going, and nothing came up."
Horwood said she called 911 and authorities came out to look for the vehicle, but it was not found. She's been wondering what happened to the vehicle since.
"Devastating. My heart's been breaking every day," Horwood said.
Horwood and others in the area said they pressured officials to come back out and search one more time, an effort that led to Tuesday's discovery.
The city of Palmdale declared a local disaster in the wake of the storm, and the county Board of Supervisors on Tuesday voted to declare a proclaim a state of emergency for northern parts of L.A. County.
Northwest of Palmdale, Elizabeth Lake, Lake Hughes and Leona Valley were hit hard. And north of Palmdale, nearly 200 cars were stranded by powerful mudflows that shut down Highway 58 near Mojave.
KTLA's Kennedy Ryan and Jennifer Thang contributed to this article.
More video:
Editorial note: A video previously featured in this article has been removed after a witness who spoke to KTLA later said she gave an inaccurate recollection of events following flooding near her home on Oct. 15, 2015.