This is an archived article and the information in the article may be outdated. Please look at the time stamp on the story to see when it was last updated.
A 13-year-old boy who got stuck in chimney and was later rescued by firefighters Monday night was trying to help neighbors who got locked out of their home, officials said.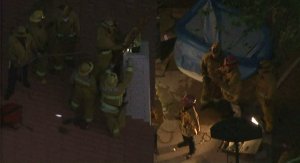 The incident was reported about 7 p.m. in the 45300 block of Thornwood Avenue.
Los Angeles County Sheriff's officials told KTLA that two teens who live in the home were locked out and the boy went down the chimney to try and open the front door inside.
The boy became stuck and sheriff's deputies had to break into the home to talk to the boy and helped firefighters devise a plan to get him out.
Aerial video from Sky5 showed firefighters on the roof of the home with a ladder down the chimney. Others at the end of the chimney outside started to drill and hammer the bottom side.
Fire trucks and Los Angeles County Sheriff's Department units lined the street as the rescue was underway.
Several spectators gathered around the house to watch the incident.
About 8:05 p.m. firefighters were able to get him out from the bottom of the chimney inside the house, video showed. The boy was wheeled off on a stretcher into an ambulance. He was reported to be in stable condition.
KTLA's Geoff Peters and Nidia Bercerra contributed to this story.