This is an archived article and the information in the article may be outdated. Please look at the time stamp on the story to see when it was last updated.
Firefighters put out a blaze at a condominium in Chatsworth Wednesday morning, officials said.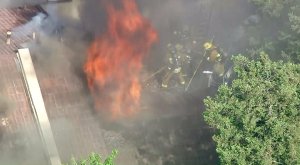 The blaze was reported about 8:30 a.m. in the 10000 block of Topanga Canyon Boulevard, according to the Los Angeles Fire Department.
The fire was in the wall and attic of the 2-story condo.
It took firefighters about 25 minutes to confine the blaze to a portion of two conjoined homes and their shared attic, officials said.
The blaze sent smoke in the area, aerial video showed.
No injuries were reported and the cause of the blaze is under investigation.
The north and southbound lanes of Topanga Canyon were closed during the incident between Devonshire and Lassen streets.