This is an archived article and the information in the article may be outdated. Please look at the time stamp on the story to see when it was last updated.
Fireworks are suspected of sparking several blazes around Southern California Tuesday evening, including a fire that burned two cars and damaged a home in Hacienda Heights.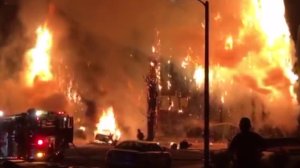 The fire was reported about 9:20 p.m. after a group of palm trees caught on fire in the 1600 block of Naco Place, Los Angeles County Fire Department Supervisor Pittman said.
The fire spread to two parked cars and a nearby home before it was knocked down just before 10 p.m.
No injuries were reported in the fire.
The cause of the blaze was still under investigation, but officials suspect fireworks, Fire Department Inspector Medina said.
Fireworks are illegal in Hacienda Heights and in nearby Rowland Heights where a brush fire, also believed to be sparked by fireworks, scorched about two acres before it was doused, according to the Fire Department.
A fire in Pacoima briefly threatened several homes, where video showed residents trying to protect their properties with garden hoses.
Finally, a brush fire in Porter Ranch required a water-dropping helicopter to help put it out.
Officials suspect the Pacoima and Porter Ranch fires were also started by fireworks.