This is an archived article and the information in the article may be outdated. Please look at the time stamp on the story to see when it was last updated.
In his final days as pastor of First African Methodist Episcopal Church, the Rev. Cecil L. "Chip" Murray compiled, copied and buried piles of records amassed over the 27 years he led the congregation.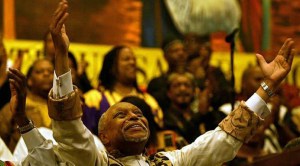 The time capsule, he believed, would preserve his legacy and document the church's role as a force for positive change in South L.A.
But in the nine years since he retired, Murray has watched his hard work crumble under the leadership of his successor, the Rev. John J. Hunter, and his wife.
Allegations of financial mismanagement and sexual improprieties tarnished the church under the new minister. But it wasn't until Hunter was removed from the pulpit last year that the full scope of the church's troubles became clear.
Click here to read the full story on latimes.com.