This is an archived article and the information in the article may be outdated. Please look at the time stamp on the story to see when it was last updated.
Several roadways across Southern California were closed to traffic Tuesday as the region was inundated with its first major rainstorm of the year.
Those residents living in areas the recently burned in last year's devastating wildfires were urged to use special caution amid the extreme conditions. The mudslides and flooding are expected to continue and have forced mandatory evacuations in Los Angeles, Ventura and Santa Barbara counties.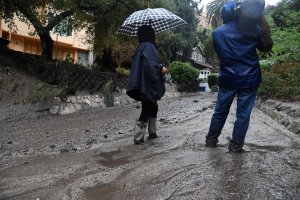 At least six homes in the Montecito area were "wiped away" in flowing mud, and at least five people in were found dead in Santa Barbara County amid heavy flooding, county officials said Tuesday morning. Another person died in a rollover crash on the 5 Freeway near Los Feliz in an incident that is being linked to weather conditions, according to the Los Angeles Times.
In Burbank, at least two vehicles were swept away in fast-flowing floodwater, video shared by police showed.
Residents in Ojai, Matilija Canyon, El Capitan Canyon and other Thomas Fire burn areas can get a view of affected areas in evacuated areas in an interactive map.
On Tuesday, new mandatory evacuations were ordered for Country Club Drive in Burbank, while hundreds of Los Angeles County residents who had been evacuated from areas burned by the Creek Fire were being repopulated, the L.A. County Sheriff's Department said.
However, the homes that washed away in Montecito were only under voluntary evacuation orders, and all residents near burn areas are urged to remain aware of current weather conditions.
See below for a list of road closures throughout Southern California.
Video taken of Country Club Drive minutes ago showing vehicles being carried away by fast-flowing storm water. These conditions are very dangerous. Please use caution. pic.twitter.com/my4qtMD5fC

— Burbank Police (@BurbankPD) January 9, 2018
The US 101 Freeway at the Olive Mill Road overpass flooded with runoff water from Montecito Creek. pic.twitter.com/SjaSOgOFMm

— SBCFireInfo (@EliasonMike) January 9, 2018
Los Angeles County
• Topanga Canyon: Topanga Canyon Boulevard is closed from the Pacific Coast Highway to Grand View Drive as of 8 p.m. Tuesday due to a slide.
• Burbank: Country Club Drive above Via Montana is closed amid heavy flooding and mudflow. Walnut Avenue at Sunset Canyon and Harvard Road at Sunset Canyon are also closed. It was unknown when the roads would reopen.
• North Hollywood: The area where the 101 Freeway meets the 170 Freeway was closed in both directions amid flooding. A SigAlert was lifted about 2:45 p.m., though aerial video showed flooding continued across lanes on the 170 at that time.
• Tujunga Canyon: Placerita Canyon Road, Sand Canyon Road and Little Tujunga Canyon Road are closed for an unknown duration due to expected flooding.
• Sunland-Tujunga: The eastbound 210 Freeway ramp to the Sunland Boulevard exit had been closed since Monday because of rain.
• La Tuna Canyon: La Tuna Canyon Road between Sunload Boulevard and the 210 Freeway is closed amid mudslides. It was unknown when the roadway would reopen.
• Monrovia: The eastbound 210 Freeway on-ramp at Huntington Drive was closed for draining cleaning until around 2 p.m. Tuesday. One lane of the freeway would also be closed from Huntington Drive to Myrtle Avenue.
• Wrightwood: Highway 2 closed in both directions at State Route 39 for 10 miles east of that point through Wrightwood because of a rockslide. There was no estimated reopening time.
• Montecito Heights: Northbound 110 Freeway at Via Marisol is down to one lane because of flooding for an unknown duration.
• Redondo Beach: One lane of the 110 Freeway and the Redondo Beach Boulevard off-ramp are blocked amid flooding. It was unknown when the lanes would be cleared.
Ventura County
• Motorists are advised to avoid the 101 Freeway north of where it meets with the 126 Freeway in Ventura.
• West Ventura County: Casitas Pass Road was shut down from Foothill Road in Carpinteria to Santa Ana Road in Ventura, east of Lake Casitas, while a mudslide is cleared. There was no estimated of how long repairs would take.
• La Conchita: The northbound 101 Freeway is closed from Mobil Pier Drive to Seacliff Beach due to flooding. It is expected to reopen around 6 a.m. on Wednesday.
• Ojai and Los Padres National Forest: Highway 33 closed in both directions from Fairview Avenue/La Luna Avenue to Lockwood Valley Road as mudslide debris is removed. It was not known when the road would reopen.
Santa Barbara County
• Santa Barbara, Montecito and Carpinteria: Highway 192 closed in both directions from Sycamore Canyon Road in Santa Barbara to Casitas Pass Road in Carpinteria because of falling rocks and flowing mud around 8 a.m. Tuesday. An estimated reopening time was not immediately available.
• Santa Barbara, Montecito and Carpinteria: The southbound 101 Freeway is shut down in both directions between Milpas Street and Highway 150 because of a mudslide. It is expected to reopen Thursday night.
For more information, visit the Caltrans website.
This is how fast water is flowing from the hills above Burbank. This is a large amount of water, with even more rain expected. If you encounter water like this, do not attempt to cross it or drive through it. pic.twitter.com/MNwriPWGt8

— Burbank Police (@BurbankPD) January 9, 2018
The #LARain Is Moving Fast. Officers were responding to help with evacuations. Within seconds their vehicle was consumed by the mud. All officers are safe. pic.twitter.com/qJzJFvNoT9

— LAPD HQ (@LAPDHQ) January 9, 2018
Mud and debris flows are affecting some roadways around the state, especially in areas that had recent fire activity. Please check QuickMap before you head out for closures & other travel information. https://t.co/WvicXhSbxn or download in the App Store or Google Play. #CAstorm pic.twitter.com/8UzLZPh7mS

— Caltrans HQ (@CaltransHQ) January 9, 2018
Crews clearing slide on NB 405 in Sepulveda Pass. #4,#5 lanes closed from Getty to Mulholland. Use caution, allow extra time for travel. Check https://t.co/xbyTKqK844 for updates on travel conditions. pic.twitter.com/PuRS4oCjyw

— Caltrans District 7 (@CaltransDist7) January 9, 2018
#Hwy101 will remain fully CLOSED from #Hwy126 in Ventura to Milpas St in #SantaBarbara until further notice. Crews/contractors are on site and working to reopen the highway ASAP. pic.twitter.com/LZUDGlyASm

— Caltrans District 5 (@CaltransD5) January 9, 2018
ALERT: Mudslides and flooding have closed railroad and Highway 101 south of #SantaBarbara. Trains 768 & 774 are cancelled. Trains 761 & 763 to terminate in #LosAngeles. Updates to follow.

— Pacific Surfliner (@PacSurfliners) January 9, 2018