This is an archived article and the information in the article may be outdated. Please look at the time stamp on the story to see when it was last updated.
Authorities on Sunday night identified the second victim of a triple homicide that occurred in a residential area of Pasadena the day before.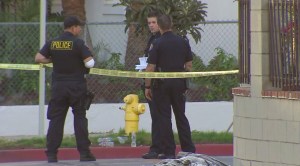 Luis Aguiar, 91, was identified as the second of the three people who were shot and killed on Saturday, an official with the Los Angeles County coroner's office who did not give her name told KTLA.
The identity of the first victim, 59-year-old Maria Teresa Aguiar, was released earlier in the day by Lt. Fred Corral with the coroner's office.
The coroner's office is withholding the identity of the third person pending the notification of the next of kin.
Two other victims suffered injuries described as minor to moderate.
Multiple 911 callers reported shots fired in the 1700 block of North Summit Avenue (map) about 4:20 p.m. Saturday, police said.
Officers responded to the location and found a victim lying on the sidewalk, then came under "heavy, direct" gunfire, according to the Pasadena Police Department. Although two patrol cars were struck by rounds, no officers were injured.
The shooter, identified as 35-year-old John Izeal Smith, barricaded himself inside a nearby residence and called the department's dispatch center, officials said.
After speaking with a dispatcher and a professional hostage negotiator, Smith surrendered and was taken into custody shortly before 6 p.m., Police Chief Phillip L. Sanchez said. He was booked on murder charges at the Pasadena City Jail.
An initial investigation indicated that the shooting may have been precipitated by a tenant-landlord dispute, according to authorities.
KTLA's Tracy Bloom contributed to this report.