This is an archived article and the information in the article may be outdated. Please look at the time stamp on the story to see when it was last updated.
The first of two 55-hour weekend closures impacting traffic on the 15 Freeway in Fontana began Friday night.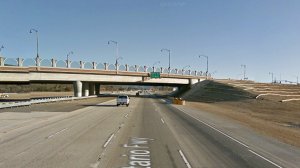 The closure is part of a $3 million project to install a new storm drain underneath the freeway, according to a news release from Caltrans.
The southbound side of the 15 Freeway at Duncan Canyon Road will be closed for 55 hours as crews put a culvert box in place immediately north of the overpass, Caltrans stated.
The closure began at 9 p.m. Friday and continues until 4 a.m. Monday.
"It's just going to be backed up and congested all weekend," Caltrans spokeswoman Terri Kasinga told the Riverside Press-Enterprise.
The shut down will likely create traffic delays in the area, especially Sunday evening as many drivers are returning from weekend trips to Las Vegas.
Southbound vehicles can take the 215 Freeway through Devore then connect to the 210 Freeway in San Bernardino as a detour.
The second closure will be in place the following weekend for vehicles traveling in the opposite direction.
The northbound side of the freeway will be closed at Duncan Canyon Road beginning at 11 p.m. on April 7 and will remain shut down until 6 a.m. on Monday, April 10, according to Caltrans.
Information about the project can be found on the California Department of Transportation website.