This is an archived article and the information in the article may be outdated. Please look at the time stamp on the story to see when it was last updated.
First responders would not have to worry about legal ramifications for giving pets "mouth-to-snout" emergency care if a recently proposed bill passes in California.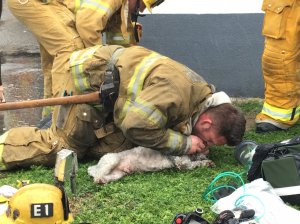 State Sen. Steve Glazer, D-Orinda, introduced Senate Bill 1305 last month. Under the legislation, neither first responders nor their employers would be held liable for civil damages or criminal prosecution if they provided pre-veterinary care to an injured dog or cat at the scene of an emergency.
"Any first responder who puts mouth to snout to save a poor pooch's or kitty's life deserves only high praise and encouragement," Glazer said in a news release. "Our pets are so important to us, that we all would appreciate any effort to save them in an emergency. We should reward, not punish, those who protect our pets."
Currently, only licensed veterinarians are allowed to provide emergency care in California, precluding firefighters and paramedics from giving basic first aid to dogs and cats rescued from house fires or other emergencies.
Anyone found to violate the current law could face a misdemeanor charge and be fined $500 to $2,000, and/or sentenced to jail for up to one year.
If the bill passes, first responders would not be obligated to treat pets, but could give mouth-to-snout CPR, apply bandages, or administer naloxone hydrochloride, a drug for K-9s when they inhale narcotics.
SB 1305 is co-authored by a bipartisan group of California Assembly members, including Catharine Baker, R-Dublin; Sabrina Cervantes, D-Riverside; Kevin Mullin, D-South San Francisco; and Marc Steinorth, R-Rancho Cucamonga.