This is an archived article and the information in the article may be outdated. Please look at the time stamp on the story to see when it was last updated.
California's Bureau of Cannabis Control has issued its first two adult-use temporary retailer licenses within Los Angeles city limits — both of them to MedMen, bringing that dispensary's total number of fully licensed medical / recreational shops to five (other doors include West Hollywood, Venice and Orange County).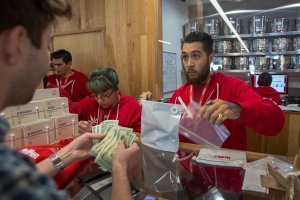 According to the BCC's cannabis license database (yes, it's a thing — and a fascinating one at that), Cyon Corporation Inc. at 110 Robertson Blvd. and Advanced Patients' Collective at 735 Broadway in downtown L.A. were granted state licenses to operate as both medicinal and adult-use retailers of cannabis on January 19.
MedMen spokesman Daniel Yi confirmed to The Times that both locations were MedMen shops and that both began adult-use sales on Saturday following the Jan. 19 issuance of the licenses.
MedMen's Orange County location opened its doors to adult-use (i.e. non-medical) sales on Jan. 1, with West Hollywood following the next day. Saturday also marked the first day of adult-use sales at MedMen's Venice shop, which was also granted its temporary state license on Jan. 19.
Read the full story on LATimes.com.