This is an archived article and the information in the article may be outdated. Please look at the time stamp on the story to see when it was last updated.
A historic building in Pasadena that housed several small stores and businesses was heavily damaged by fire Sunday, authorities said.
The blaze broke out around 4:30 a.m., according to the Pasadena Fire Department.
The neighborhood landmark located at N. Fair Oaks Ave. and Peoria St. housed a furniture store, a beauty salon and several other businesses.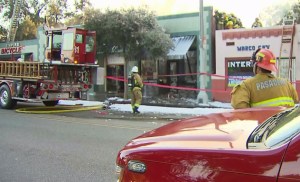 Among the shops that suffered heavy losses was Arroyo Artifacts, a custom furniture store that also sold art.
"We spent the last year and a half building this from nothing," owner Kevin Tittle told KTLA 5. "I don't know what we do next."
Nalani Hernandez-Melo was one of the artists whose work was sold inside the store.
"It was all in there, it's all gone," Hernandez-Melo told KTLA 5.
The blaze caused a total of about $1 million in damage, according to firefighters. The cause of the fire was under investigation.