This is an archived article and the information in the article may be outdated. Please look at the time stamp on the story to see when it was last updated.
Firefighters on Sunday evening extinguished a truck fire that ignited after a multi-vehicle crash on a busy street in East Hollywood, officials said.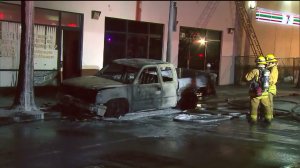 The collision, involving two trucks and a car, occurred about 8:30 p.m. in the 5000 block of West Sunset Boulevard, according to Battalion Chief Dean Zipperman of the Los Angeles Fire Department.
According to a witness's account, a red pickup truck was traveling eastbound on Sunset when it accelerated through the intersection at Normandie Avenue, in an attempt to beat a red light.
The driver "plowed into a car" at the intersection, struck a white truck, then spun out and came to a stop, Robert Calzada told KTLA. The unoccupied second truck, which was apparently parked along a curb, erupted in flames.
"It just happened so fast — in seconds," Calzada said, adding that he saw the driver of the red pickup exit his vehicle and place his hands atop his head.
A witness's video shows the second truck engulfed in an inferno, as a man approaches it with a fire extinguisher and frightened bystanders are heard shouting.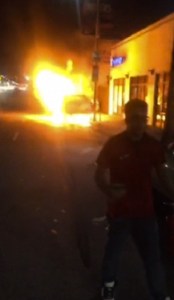 The flames spread to vegetation that included a palm tree, Zipperman said, and the heat shattered windows at a nearby pharmacy.
Thirty-seven firefighters knocked down the blaze within 10 minutes, according to the Fire Department said. A woman in the car suffered a minor injury and declined to be transported to a hospital, Zipperman said.
It was unclear if anyone was cited or taken into custody. The incident was under investigation by the Los Angeles Police Department.
Sunset Boulevard was closed in both directions between Normandie Avenue and North Mariposa Avenue as crews worked to mop up the scene.