A blaze exploded at a shuttered skating rink in San Bernardino, sending massive flames and heavy smoke up into the air early Thursday.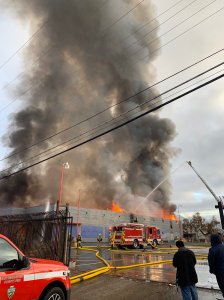 Crews were making their way back to the station after a separate incident when they noticed smoke coming from a building in the 2100 block of Lugo Avenue at around 6:40 a.m., according to the San Bernardino County Fire Department.
The firefighters immediately requested additional crews and resources as flames engulfed the 20,000-square foot structure. They searched the building for any possible victims but soon had to leave due to the smoke and the intensity of the blaze, according to the Fire Department.
The building formerly housed the Stardust Roller Rink, fire Chief Dan Munsey said.
Crews deployed more than 3,000 gallons of water per minute at the height of the fire, using nine engines and three fire trucks, officials said. Southern California Edison also responded to the scene to mitigate electrical danger, the Fire Department said.
It took firefighters about an hour to extinguish the flames, according to authorities.
One firefighter was taken to the hospital for a minor injury. Nobody else was hurt in the incident, the Fire Department said.
The vacant building sustained significant damage, the cost of which was yet to be determined.
Earlier, the San Bernardino City Unified School District asked schools affected by smoke to shelter in place and keep windows and doors closed until the smoke dissipates.
San Bernardino: (Final) Knockdown reported. Crews to continue to work hotspots. Building sustained heavy damage. Fire Investigators on scene to work on cause and origin. pic.twitter.com/tuPJNOE7Ss

— SB County Fire (@SBCOUNTYFIRE) December 5, 2019