This is an archived article and the information in the article may be outdated. Please look at the time stamp on the story to see when it was last updated.
Some residents were being allowed back into their homes Wednesday as flare-ups from the San Gabriel Complex fires continued to spark on the mountainsides above Azusa and Duarte.
The complex consist of the Reservoir and Fish fires, which both began around noon on Monday.
The two fires have combined to burn about 4,900 acres and were just 15 percent contained as of Wednesday morning, according to the federal InciWeb information page.
After initially having to fight the fires shorthanded due to wildfires already burning in Santa Barbara and San Diego counties, officials had about 1,400 personnel on hand as they hoped to increase containment Wednesday.
That personnel figure was well over double the 610 assigned to the San Gabriel Complex on Tuesday morning. Authorities had said they would be able to fully staff the San Gabriel Complex as efforts on the other two major blazes began to conclude.
The Sherpa Fire, in Santa Barbara County, was 89 percent contained Wednesday after burning 7,969 acres. Mandatory evacuation areas there were reduced as firefighters worked to extinguish hot spots. The Border Fire, in San Diego County, was at 6,500 acres and 15 percent containment Wednesday.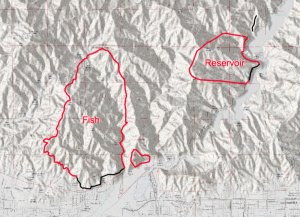 About 3,300 firefighters remained on those two fires.
A total of 1321 homes in Duarte and Azusa have been evacuated due to the out of control wildfires, said Los Angeles County Sheriff's Department Cmdr. David Halm.
Of those homes, 534 were going to be repopulated as of noon Wednesday.
The homes that would no longer be under a mandatory evacuation order included those in Duarte that were north of Royal Oaks Drive, between Greenbank Avenue and Encanto Parkway, Halm said.
Only residents with identification would be allowed to return to their homes and all other evacuations would remain in place, Halm said.
In Duarte those still under evacuation orders included the areas north of Royal Oaks Drive that were west of Tocino Drive and east of Mount Olive Road, the Sheriff's Department stated on their Facebook page.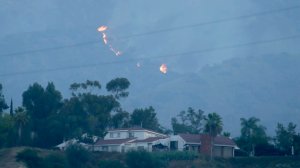 At a community meeting at Northview Intermediate School in Duarte Wednesday night, residents were told that homes in the Mountain Cove area would remain under a mandatory evacuation order until further notice.
Residents needing to retrieve items from their homes will be escorted into the neighborhood between 8 a.m. until noon or from 4 p.m. to 8 p.m. on Thursday. Residents were asked to gather at Ranch Road.
On Tuesday, officials said sheriff's deputies would be deployed to evacuated neighborhoods to keep potential looters away.
Temporary flight restrictions have been put in place over the Complex fire areas. "Any private aircraft or drone that violates the TFR could face serious criminal charges," the InciWeb page stated.
KTLA's Melissa Pamer contributed to this article.
[googlemaps https://www.google.com/maps/d/embed?mid=1TYv0gKLSp8zAzcZUHWpKhHcXPtE&w=640&h=480]
https://twitter.com/MichaelDubron/status/745343773010341888