This is an archived article and the information in the article may be outdated. Please look at the time stamp on the story to see when it was last updated.
Thunderstorms in the Inland Empire Monday caused flooding and prompted rescue efforts, the day after flash floods in the region caused similar damage.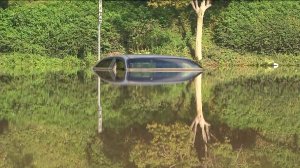 The National Weather Service initially issued a Flash Flood Warning in Indio, Palm Desert and Coachella until 10 a.m., a tweet from the agency stated. The warning was later extended until noon.
A Flash Flood Watch was scheduled to remain in effect through Monday evening for the mountain and desert areas of Riverside and San Bernardino counties, according to the weather service.
Isolated thunderstorms were forecast to develop in the mountains during the late morning or early afternoon before hitting the desert areas.
The weather service noted that there would be a "high potential" for heavy rains and flash floods in the Inland Empire during the afternoon as a result of the storm.
Road closures went into effect after some flooding was reported late Monday morning in Riverside County.
The closures included Fred Waring and El Dorado drives in Indian Wells, Highway 111 and Miles Avenue in Indian Wells, and Washington Street and Avenue 42 in Bermuda Dunes, according to the Riverside County Sheriff's Department.
An estimated 43 people had to be rescued by Riverside County Fire Department officials, many being motorists who got stuck in the sudden downpour.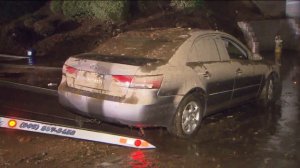 On Sunday, a summer storm drenched the area with rain, hitting some areas with 2 inches in the span of an hour and causing flooding of up to 4-feet high.
Multiple vehicles got stuck in the rising floodwater, prompting firefighters to rescue at least five adults and three children who were trapped inside three partially or fully submerged cars near the 91 Freeway and 14th Street.
Several mud-caked cars remained at the scene overnight before they were eventually removed by tow trucks.
The weather service on Monday stated that it received several reports of vehicles stranded by flooding, including along the 10 Freeway.
Drivers have been advised by the weather service to stay away from roadways covered in water because vehicles could get stuck.
KTLA's Ashley Soley-Cerro contributed to this report. 
More Video: