This is an archived article and the information in the article may be outdated. Please look at the time stamp on the story to see when it was last updated.
A flash flood watch remained in effect as a flash flood warning issued Saturday afternoon by the the National Weather Service in areas burned by recent brush fires in Los Angeles County expired.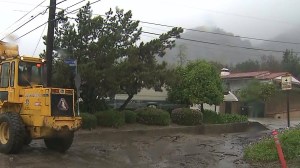 The flash flood warning had been issued for the Colby, Madison, Madre and Williams fires burn areas, according to the weather service.
The warning was initially set to expire at 4:15 p.m. However, the weather service extended it to 6:15 p.m. as bands of heavy rain and isolated thunderstorms continued to move into the areas.
The flash flood was in effect for parts of L.A. and Ventura counties, according to the weather service.
The affected areas included Malibu, Santa Monica, Beverly Hills, Hollywood, Long Beach, Santa Clarita, Valencia, Woodland Hills, Burbank and Northridge.
The watch expired at 9 p.m., according to the weather service.
A high surf advisory along coastal areas of Southern California was expected to remain in effect until 5 p.m. Sunday.