This is an archived article and the information in the article may be outdated. Please look at the time stamp on the story to see when it was last updated.
Firefighters rescued eight people from multiple vehicles that became stuck in water during a flash flood in Riverside County Sunday afternoon, officials said.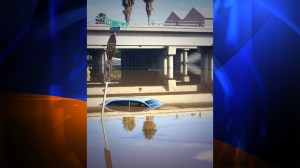 Multiple vehicles were stuck in 2 to 4 feet of water in Riverside County, the National Weather Service stated, although the exact location was unclear.
Firefighters rescued five adults and three children after three vehicles became partially or fully submerged in water near the 91 Freeway and 14th Street, Pat Hopkins with the Riverside Fire Department said.
"We arrived out here, we found three vehicles with water about up to the mid-door, up to almost the window area," Hopkins said. "We felt at that time it was safe enough for us to wade out to their location. We assisted the five adults to the shore as well as carried the three children."
The flash flood also caused an eastbound and westbound closure of the 74 Freeway from Willowbrook Road to the 243 Freeway , the California Department of Transportation tweeted around 2 p.m.
It was reopened by 6 p.m., another CalTrans tweet stated.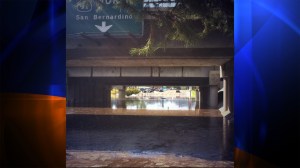 Thunderstorms hit both Riverside and San Bernardino Counties throughout the day, with flash flood warnings in effect in both areas.
Drivers were advised by the NWS to stay clear of water covered roadways because vehicles may not be able to cross.
Most flood deaths occur in automobiles, according to the NWS.
The flash flood warning was expected to be in effect until 4:15 p.m.