This is an archived article and the information in the article may be outdated. Please look at the time stamp on the story to see when it was last updated.
Authorities on Wednesday were asking for the public's help in locating a man in connection with two separate indecent exposure incidents that occurred on Riverside college campuses, according to a news release from the University of California Police Department.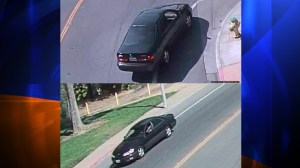 The first incident was reported at about 10:00 a.m. on Monday in the parking lot of a UC Riverside apartment complex located in the 3600 block of Canyon Crest Drive (map), the release stated.
A woman was walking through the parking lot when a male driver asked her a question, according to the release. As she approached the vehicle, she saw the man was exposing himself.
The female walked away and called police, the release stated.
The man drove away and was seen turning right onto Canyon Crest Drive toward University Avenue.
A similar incident occurred around 10:30 a.m. the same day on the Riverside Community College's main campus (map), according to the release.
Police described the person they were looking for as a Hispanic male in his 30s with a slender build and a thin mustache, the release stated.
The vehicle was described as a black and grey late-90s model Lexus sedan, with no tinting on the windows and an unknown license plate.
Anyone with information regarding the incident was asked to call UC police at 951-827-5222.