This is an archived article and the information in the article may be outdated. Please look at the time stamp on the story to see when it was last updated.
Freezing temperatures, heavy snow and blizzard-like conditions in parts of the country have led to dozens of flight cancellations and delays at Los Angeles International Airport, according to flight-tracking website flightaware.com.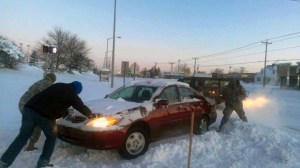 Approximately 2,000 flights were canceled nationwide as of Tuesday morning, flightaware.com reported. At LAX, 15 flights were canceled and 23 flights were delayed.
The delays and cancellations came as two-thirds of the eastern part of the United States was being impacted by "dangerously cold arctic air," according to the National Weather Service.
Wind chill advisories and warnings were in effect for much of the eastern part of the country, with forecasters calling for wind chill values to hit as low as  minus 50 degrees, the weather service reported.
At least 15 deaths have been blamed on the freezing weather so far, according to CNN. Eleven were blamed on traffic incidents, while two involved cases of hypothermia.
Temperatures were expected to rise Wednesday, forecasters said.